Looking for information on how to switch from Squarespace to WordPress? Check out the steps I took to move to a self-hosted WordPress website.
This post may contain affiliate links, which means that if you make a purchase, I might make a small commission at no extra charge to you.
Squarespace to WordPress
As I mentioned in my first post, Welcome to Inspired Design Talk, I decided to switch from Squarespace to WordPress last year. I wanted to take blogging seriously and knew this was a critical step in the process.
It was NOT easy since I never worked in WordPress before but knew all the hardcore bloggers did. Since I have worked on the computer my entire career I was confident I would be a quick learner.
That said first I did a ton of research to figure out how to make the switch as painless as possible. I'll share with you everything I learned so it will make your life a bit easier.
This post is all about how to switch from Squarespace to WordPress
---
Courses To Take BEFORE You Switch From Squarespace To WordPress
The following courses are recommended and will definitely help you learn all about SEO, keywords, content strategy, Pinterest, core web vitals, and more!
I took these during my blogging journey but if you take them before you will avoid SO many mistakes. CONTENT is KING in blogging but knowing the backend stuff will make your life so much easier.
This will teach you everything you didn't know you NEED TO KNOW!
Trust me you will so glad you started blogging with this knowledge from the beginning. If not you will be like me one step forward two steps back!
iMark Interactive Site Speed & CSS Bundle: $197 First take the FREE WordPress Course and then BUY this BEFORE you start your WordPress blog.
I recently purchased the Site Speed/ CSS Bundle on 7-6-21. After a year of blogging learned I was embedding my videos WRONG! UGGG
Trust me when I tell you you need this course and join the Facebook group after you do. Grayson Bell is so helpful and really wants all of us bloggers to succeed.
Perfecting Blogging + Perfecting Pinterest Bundle: $220 I bought By Sophia Lee's course bundle on 12-30-20 and it was one of the best investments I've made in my blogging journey to date!
You can buy the separate courses but I do recommend the bundle. If you buy separately I would start with Perfecting Blogging first.
After you finish I would then buy Perfecting Pinterest because the SEO and keyword research tips in the blogging course will benefit your Pinterest strategy.
Genius Blogger's Toolkit 2020: $97(bundle of courses) I bought this 9-28-20 and plan to purchase it every year going forward.
The tool kit has courses and PDFs on topics such as SEO, email, marketing, Pinterest, Affiliate marketing, and more!
---
Steps To Switch From Squarespace To WordPress
Now for what you are here for. These are the steps to make the switch from Squarespace To WordPress.
1. Domain Name
The first thing I did was purchase my domain name for Inspired Design Talk.
My www.iqdesigngrp.com domain stayed on Squarespace but was pointed to my WordPress host site after migration. Read this next for help with this Squarespace To WordPress Migration (5 Easy Steps).
My new host set up a staging site so I could move everything over while the old website remained live.
This was a huge help since I could still see layouts and pull images from the old site.
I purchased my new domain from Namecheap for $14.20 for two years. I also added the Free WhoisGuard.
You can do a quick search on this site to make sure the domain name you want is available.
Get your .com for just $8.88 with Namecheap

Since I already knew what name I wanted for my blog this was an easy step for me.
If you don't know your name you'll need to do a little brainstorming to come up with one.
---
2. Website Host for WordPress Blog
The next step after purchasing your domain is to purchase a plan with a host site.
As my friend Amy explained to our friend Susan the domain name is the car and you need a garage (the host) to park your car in.
WordPress.org (NOT to be confused with WordPress.com a hosting site) is the FREE software or program where you design your website but you need a host to park that car in.
So I am a crazy person when it comes to research and commitment so this was quite the process for me.
I literally stalked my FAVORITE bloggers on Who.is which is a site that will tell you the host of a website.
Many were on GoDaddy which has been around forever but in my research, I read a ton of reviews that said it was overpriced and had issues.
That said I continued my research and next looked into the recommended hosts on the wordpress.org site.
At the top of the list is Bluehost which when you google the best host for a WordPress website no joke EVERYONE recommends them.
The reason is it's SUPER affordable for ANYONE to get started and has a great affiliate program. What that means is that the person recommending the host will get a commission if a reader signs up.
I have to admit I was SO CLOSE to signing up with Bluehost and at least two of the Bloggers I admire use them.
Still, I wasn't convinced because a lot of website designers on Reddit said they DID NOT recommend Bluehost.
Also, I believed that if I started out with Bluehost I would outgrow the site and have to move within a few years.
Since my goal was to start off where I had room to grow I kept looking.
The drawback with DreamHost for me was they don't use a cpanel which I read was a dealbreaker for people. Others said they had issues with webmail.
That was all I personally needed to move on but please research on your own as well.
SiteGround was definitely a contender since my theme provider recommended them and they are very affordable.
A lot of bloggers in my research also mentioned having their site hosted with them.
Still not convinced I kept researching.

WP Engine had GREAT reviews but for me, they were a bit expensive.
They are a fully managed web host and specialize in WordPress. They will help you migrate (move) your site over too.
I would definitely consider them in the future if I outgrow my current host.
Flywheel was recommended to me by rewardStyle.
They have great reviews especially their customer service but similar to WP Engine they were out of my budget at this time.
So I passed on them.
---
My Squarespace To WordPress HOST is:
After ALL my research, website stalking, and asking for recommendations from Bloggers I admired I chose Bigscoots!
One of my favorite Bloggers uses this host and she has a blog that's exactly where I want mine to be in the near future.
A second blogger I follow confirmed I made the right decision when she said she just moved her site from Bluehost to Bigscoots!
In my head, I was like AHHHHHHHH I made the right decision!
All web host providers have different plans to choose from.
BigScoots Starter Plans
For my Bigscoots account, I chose the 155CC shared web hosting plan for $10.95 a month and paid an extra $2 for a dedicated IP.
Eventually, I will sign up for a yearly plan but to get started I did the month to month.
The beauty here is that I now have two websites for this price!
If I had the budget I would have chosen the starter managed web hosting plan for $34.95 per month.
BigScoots WordPress Managed Plan
Had I started off with that one Bigscoots would have migrated my www.iqdesigngrp.com site for me.
Since I did NOT start off with that I had to migrate my Squarespace site with over 130 blog posts myself which was a pain in the @ss.
For me, it was the best idea because I had large images to fix and optimize along the way which I didn't do when I originally uploaded them.
My goal is to upgrade to the managed WordPress plan when my website grows. You can always upgrade your plan but you can NOT downgrade.
Since I'm new to WordPress and pick up computer programs super quick I was confident I'd be able to figure it out.
Any issues or problems I've had as a result of the learning curve I reached out to Bigscoots for help and they were awesome!
All I had to do was open a ticket and they quickly replied with assistance.
The other thing I should add is since my Squarespace site does not set to renew until the middle of August and I started this process in June I knew I had time to make the switch.
When it comes to my website(s) I have always gone by the motto of:
Done is Better than None!

~Nicole Delacruz
I don't try to be perfect AT ALL and just put it out into the universe correcting as I go.
I have found the best way to keep moving forward is through ACTION and baby steps every day.
Progress over perfection my friends!
*** Update On My Host Plan ***
August 24, 2020-Upgraded my Bigscoots account to be WordPress Managed. I upgraded to improve the speed and storage capacity. The cost increased to $44.90 a month for the two sites.
I'm happy I made this change and still extremely happy with my host selection!

There are many free and inexpensive theme options out there.
The Theme is basically the "look and feel" of your site.
I wanted a pretty, girly, Boss Lady vibe theme.
A blogger I follow recommended 17th Avenue Designs and I fell in LOVE!
I chose one of their new themes Harper which had the look I was after and all the different page layouts I would need for both websites.
Remember I have two since I split the blog Inspired Design Talk from the Interior Design site IQ Design.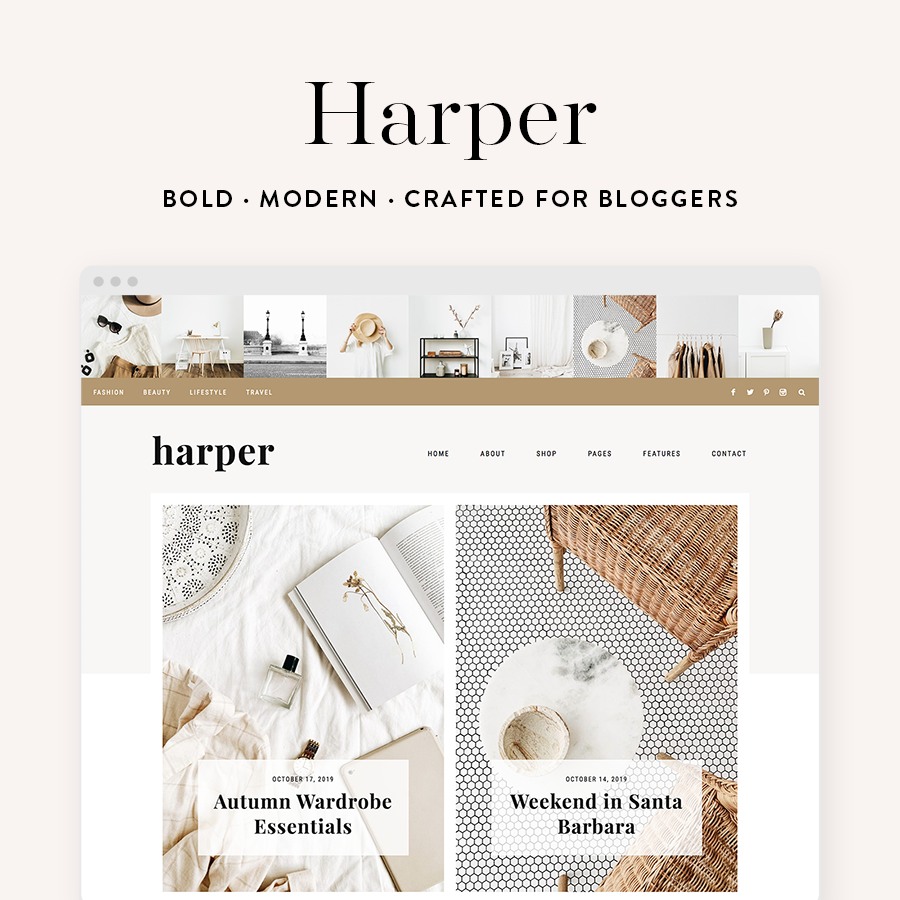 The theme was very easy to install for me following the detailed instructions on their website BUT you can also choose to have it installed for you.
Since I am new to WordPress the more practice I get working the program the better and I'm a GEEK when it comes to computer techy stuff.
My brain just gets it pretty quick and painless with NO tears!
---
Where can I get themes for WordPress?
Here is a list of other places to look for your theme:
These are all pretty girly which is what I'm into these days.
Squarespace To WordPress Recap
I know this was a lot of information!
Believe me when I say my head was ready to explode during the process but I made it through and so can you!
---
Here is A list of my final selections:
---
It basically took me a full month to change over to WordPress.
I have been switching back and forth between the two sites and finally got back to blogging.
This is my third post on the new Blog site.
I still need to update more on the "staging" IQ Design site but have some time before I need to finish.
To be honest I'm a bit nervous to tell Bigscoots I'm ready to go live but will take a deep breath and DO IT when the time comes.
I truly hope this was helpful to anyone thinking of making the move to WordPress.
It has been quite the process but I KNOW it will pay off!
Happy Blogging and please follow along as I continue to share more useful resources.
Have a great day full of Unicorns & Rainbows!
xo Nicole
---
Helpful Blogging Tools:
Fiver– Freelancers to help you make the switch
---
Grammarly– BEST creation EVER! Correct spelling and grammar in your blog posts. I use the free version.
---
Deposit Photo– For cheap stock images.

---
Tailwind– Scheduling program for Pinterest & Instagram
---
Canva– Free site to create graphics
---
Other posts you may like:
Why the new blog Inspired Design Talk
How To Start a Stylish WordPress Blog